Learn about Security in a Workshop or Master Class
Get a grip on web application security. Become acquainted with common security risks and learn how to prevent and control them. Obtain insight on how to recognize and prevent vulnerabilities in web applications with a web security workshop or Master Class.
The workshops and Master Classes are primarily aimed at webmasters, content managers, web developers, CISO's, CIO's and IT-staff. The focus is on security in web development, creating awareness and recognizing that web applications are often vulnerable due to unnoticed, minor flaws.
Company Workshop Web Security
Do you want to organize a security workshop for your developers? Which ICT security guidelines must be considered? How does a hacker approach a web application?
An experienced security expert introduces the most important security guidelines and standards in web development. The expert will guide programmers into the world of hacking of a business environment and shows how easy it can be to exploit vulnerabilities in web applications and underlying systems.
This is an interactive workshop in which participants will have the opportunity to become the hacker. The program and duration of the workshop can be determined flexibly.
Contact Us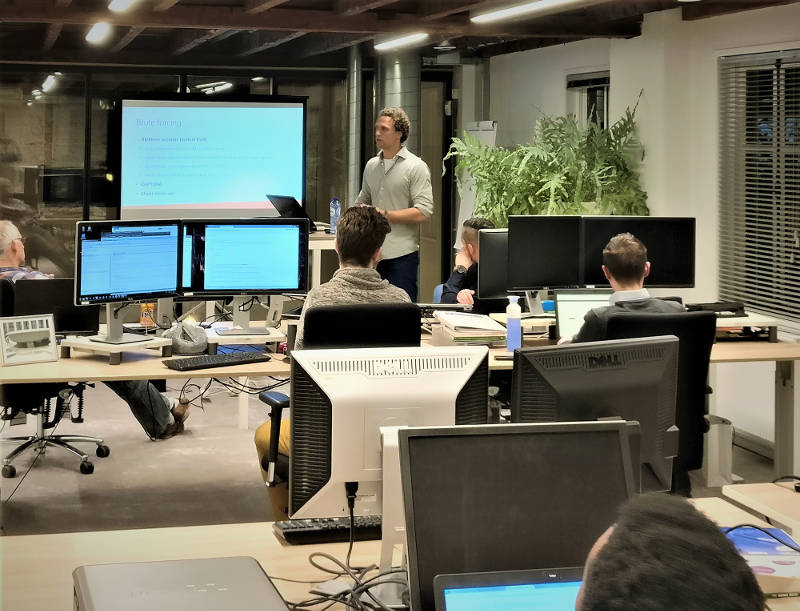 Security Workshop with Pentest Results on Own Systems
To activate employees and get involved in IT security, it is possible to use the organization's test results in a workshop. First have a penetration test conducted on the own IT-systems and then have the findings presented and analyzed in a workshop. Employees are given the opportunity to start using security test tools themselves, receive feedback about vulnerabilities within their own web applications and learn how they can solve and prevent this. A look behind the scenes into the world of a hacker will enthuse your employees and create awareness and involvement of the internal and external IT-security of the company.
Do you want a penetration test followed by a security workshops for employees based on the test results? Ask us about the possibilities.
Customized Workshop?
Do you have special requests and require a customized workshop? In consultation we can create a customized program which addresses specific interests or topics. Costs for the workshop depend on the number of participants, duration of the workshop, preparation- and travel time. The program can be set up as desired. We strive for a well-balanced combination between theory and practice, which is usually the preferred setup to ensure active participation and involvement of the participants.
Please contact us to discuss your requests and the possibilities.
Master Classes Web Security
Web Security Scan experts teach two Master Classes Web Security (Novice and Intermediate) on-site or at the DongIT office. An experienced IT-security expert will guide participants through the world of hacking. The Novice (Level I) Master Class is focused on participants who have little or no knowledge about web security. The Intermediate (Level II) Master Class is for participants who have already completed Level I or are already more advanced and have some knowledge in the field of security, and elaborates on security in web development.
Web Security Level I - Novice Master Class
(duration: half-day)
The Novice Master Class introduces participants into the world of web hacking, fraud and web security in half a day.
The class contains many practical and relevant recent examples. After completing this Master Class, participants will be able to recognize common vulnerabilities and should be able to reduce security risks in their own organization.
Web Security Level II - Intermediate Master Class
(duration: two days)
Solely understanding the risks is not enough to achieve a secure web application. The Intermediate Master Class goes deeper into the matter and teaches participants to identify vulnerabilities. The primary focus of this class is to gain knowledge on how to resolve existing vulnerabilities and prevent new vulnerabilities in the development process.
Participants will understand how security is an integral part of complex web development. Safety through precision. Participants will work together on specific cases and objectives, and will be able to detect, prevent and resolve security risks after completing this Master Class.