Your website has been hacked, what now?
When your website is hacked, it can have severe consequences. For example, hackers have put malicious code on your website that spreads malware or spam. Your web server may have been compromised or a hacker has tampered with the database. You may not even notice that something is wrong, but website visitors may experience problems or receive warning notifications from Google. The cause is often difficult to find. Regularly, malware is hidden in the code and you do not know where to look.
Our security experts restore your website (regardless of the type of hack and system used), find out the cause and remove the malware or resolve vulnerabilities, so you will not become a victim of a hack again. A concise report follows from the security investigation, including problem analysis and solution methods.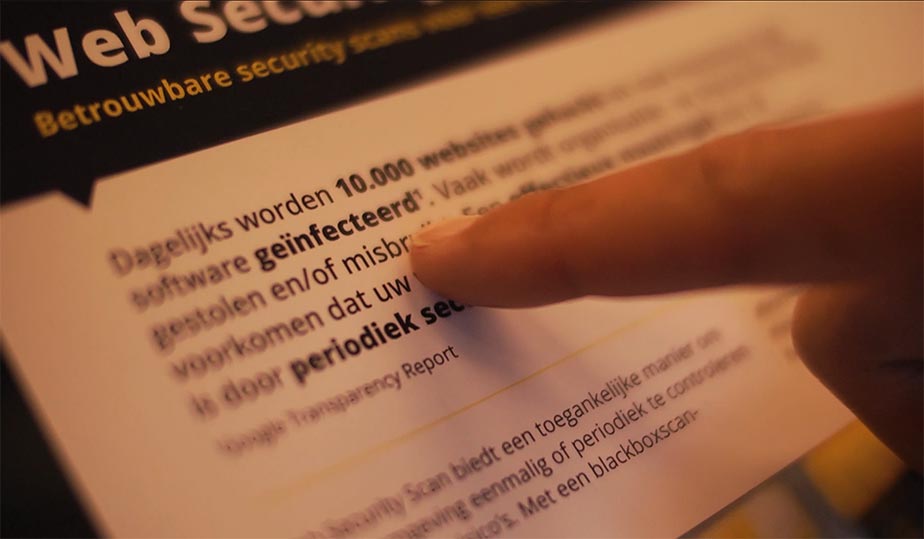 Protect your Website against Hackers
Do you want to protect your website against hackers? Or do you suspect that your website has been hacked, but you are not sure? Web Security Scan examines the current state of security of your website and provides advice and recommendations on how to protect yourself against hackers. This way you will obtain more assurance on the security of your website.
For more information about our methods and the costs of these security assessments, please contact us via the button below.
Risks of a Hacked Website
A hacked website implicates significant company risks, including:
Search Results Block
Google deletes or blocks search queries to your website, resulting in customer decrease.
Revenue Loss
Users will avoid payment traffic on a hacked website, which means you will lose revenue.
Abuse of Customer Data
Loss, theft or abuse of privacy sensitive customer data. You are responsible for any data leaks.
Reputational Damage
Hacked websites get a negative reputation and customers will switch to your competitors.
Services for Hacked Websites
The most common cause of a hacked website is malware that is placed on your website. In addition to removing harmful malware, Web Security Scan also offers the following services for hacked websites:
Phishing Page Removal
Remove phishing components that allow your visitors to perform unwanted actions.
Google Blacklist Removal
Unblock your website from the Google search results blacklist.
Malware & Backdoors Removal
Remove exploitable vulnerabilities from your website.
Restoring Defaced Pages
Restore the visual appearance of your website when it has been distorted by a hacker.
Detailed Security Analysis
Receive an analysis report of your website's security.
Security Assessments
Keep your security up to date by means of (periodic) security assessments.
Start Directly with Recovery
Web Security Scan can often offer support within a day for recovering your hacked website. The cause and solution direction can sometimes be found within 4 hours by our security experts. Recovery of your hacked website can be done based on post-calculation or by a time/budget-box test. To prevent abuse of this service, we ask you for a down payment.
Contact us for more information about the possibilities, operating procedure and (down payment) costs.